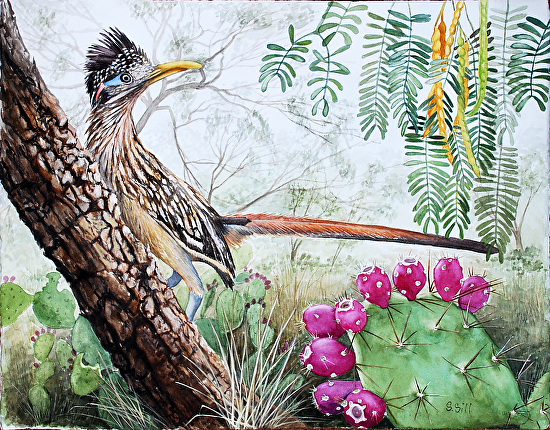 "Sue Sill's 'Roadrunner' is exceptional not only for its technical excellence,
but for its well-conceived composition.
Whereas most of the flora or fauna watercolors keep their subjects isolated,
Sill, a serious botanist, has placed her roadrunner against the South Texas brush,
informing us of its place. The bird also turns its head, tuning in to its wild environment."
"Nancy Moyer, Professor Emerita of Art from UTPA, is an art critic for The [McAllen] Monitor. January 20, 2014
This painting was awarded first place in the "People's Choice Award" during the January 2014 Annual Show of the
Hidalgo Watercolor Society at the Upper Valley Art League in Mission, Texas.

sue.sill@sbcglobal.net